Frequently Asked Questions
What is the Master Reset for my Forerunner 110, 210, 220, 620 or 630
Why Perform a Master Reset?
There are some occasions when performing a master reset can resolve certain issues, including:
Not receiving a satellite signal
Not functioning properly
Restoring the factory default settings
Bringing up language selection prompt if incorrect language text is showing
Unable to pair up accessories (e.g. heart rate monitor or cadence sensor)
By doing this reset, all user information, workout history, and satellite data (see below) may be erased. Workouts can be backed up to training programs like Garmin Connect.
Please Note
Due to recent software updates for Garmin fitness products,
a master reset will not always delete activities
- especially if there is a fault which has been caused by failing to delete old data. Activities will need to be removed from the History/Delete Menu, or via the 'Garmin' drive which appears on your PC or Mac when plugged in via USB.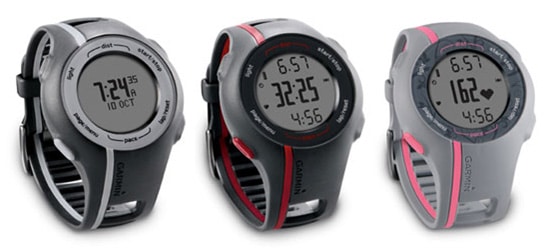 Instructions:
Power off watch (press and hold Light, answer Yes to the prompt)**
Press and hold Start/Stop and Lap/Reset
Press and hold Light (three buttons should now be pressed in)
After first beep, release Start/Stop
After second beep, release Lap/Reset
Release Light
The reset on the Forerunner is successful if the device finishes powering up and goes to the setup wizard. Try the steps again if the setup wizard does not appear.
Leave the device outside with a clear view of the sky for a
minimum of 20 minutes to acquire satellite data once the reset and setup wizard are complete.



**If the Forerunner will not power down, press and hold Light until the watch powers off. This causes the watch to reboot itself.


---
Last updated Mon, Jul 6 2015 14:32